Paragraphs
Image (half)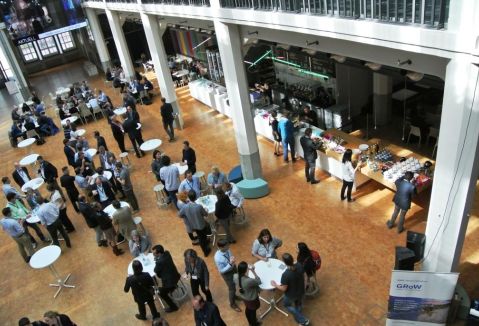 Kicker (colored, optional)
GRoW kick-off event
Content
Water for all: Researchers develop innovative solutions
Launch of the BMBF funding measure GRoW
A conference held on 12 and 13 September in Karlsruhe, Germany, marked the launch of a new funding measure from the German Federal Ministry of Education and Research (BMBF): Water as a Global Resource (GRoW). Over 150 experts convened at Karlsruhe's ZKM Center for Art and Media to present the measure's joint research projects, identify common challenges and highlight potential for synergies. With GRoW, the BMBF aims to help achieve the clean water and sanitation goal contained in the United Nations' 2030 Agenda for Sustainable Development. Representatives of more than 90 participating institutions active in research, policymaking and practice attended the kick-off event.
The GRoW funding guidelines require the project partners to develop innovative solutions for global water problems and demonstrate them in local case studies. Participants should provide improved forecasting tools, management tools and assessment systems capable of, for instance, reducing water pollution and increasing efficiency in water use. Accompanying education measures should create lasting roots for the newly acquired knowledge and transfer it to other regions. The overarching aim is to increase good governance in the water sector.
Global analyses and local solutions
A defining feature of the funding measure is that it links local and global action. Imports of water-intensive products mean that growing levels of water stress in many regions of the world will also have an impact on Germany. The country is one of the world's biggest importers of "virtual water" – water used to manufacture products and provide services. As part of their GRoW activities, the project partners plan to analyse these connections and, based on a better understanding of the state of water resources and trends in global water demand, produce solutions for sustainable water management. In addition, solutions for water problems developed in Germany should be disseminated and transferred.
Stronger, more networked research for better practical transfer
To help the twelve projects collaborate and transfer their research findings into practice, GRoW will be accompanied by GRoWnet, a networking and transfer project led by adelphi, a company based in Berlin. During the kick-off event, experts identified initial interfaces between individual projects. Shared challenges and potential synergies primarily lie in methodological approaches and transferring findings into practice.